Authenticity is key to my photography, whether I'm shooting fine art equestrian portraits or still life products in the studio. So, there was an immediate connection when I spoke to the Hi Form Equine UK team and they told me about their supplements and obsession for quality.
Hi Form was looking for a photographer to help demonstrate both the attributes of their high quality supplements and the ensuing benefits in their equines.
As a professional photographer with over 25 years experience in shooting advertising campaigns and creating fine art equestrian photography I relished the challenge. I am known for shooting for real "in camera" and using light shaping tools to sculpt light around my subjects. For me, this approach gives an authenticity that retouching techniques can never achieve.
So we wasted no time in arranging a shoot with two horses who had been on the Hi Form supplements programme. They both co-operated admirably under the spotlight and Hi Form was so delighted with the results they pressed me into allowing these fine art images to be used on the product labels. I was a little hesitant at first but had to agree that "a picture paints a thousand words" as the saying goes!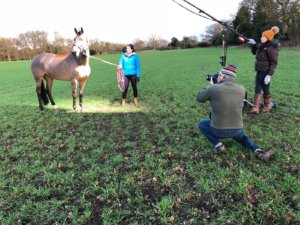 Next step was to shoot the supplements in the studio and my brief was to highlight their great qualities, such as; the fine milling to allow easy absorption, and no fillers meaning smaller doses.
I was delighted to work with the Hi Form Equine UK team. Claire & Alice were a pleasure to work with and its always great to work with people who are truly passionate about what they do.
To see more of Matthew's work check him out online: